I am excited to announce that you can now join a new premium version of MapChart, called MapChart Plus.
MapChart Plus is the full map-making experience—with more advanced features that let you save maps and your favorite colors to your account, no ads, extra themes and more.
But first, a bit of a backstory.
Requested by you
MapChart has been around since 2014, and it has always been free to use. Millions of users have used it to create their own custom maps for their projects, their work, or just for fun.
All this time, there has been one request that periodically comes up:
Can I create an account with MapChart to save all maps that I create?

Building this has been on my radar for a long time, along with some other capabilities that only make sense for a premium version.
So today, I am happy to announce that it is finally available!
MapChart Plus is for users that want a more advanced experience.
With Plus, you can save your maps and your favorite colors to your account, so you don't have to start from scratch every time. You'll also get no ads, extra themes and more features that will make the map-making experience even better than it already is.
Here is a rundown of the Plus features:
The Plus features
🗺 Save your map settings to My Maps:
Save all the maps you make to your account.
Load map settings from My Maps whenever you want.
Log in to your account from any device and continue working on your maps.
No need to use config text files any more!
🎨 Save your favorite colors to My Palette:
Store your favorite colors and patterns to your account.
Quickly select theme again while editing your maps.
Create custom colors and patterns for your own favorite palette.
👤 Your own MapChart Plus account:
Accessible from both the website and the mobile apps.
Log in to your account from any device.
App available for iOS and Android.
Find and edit your saved maps or palette.
Change your preferences or favourite map theme.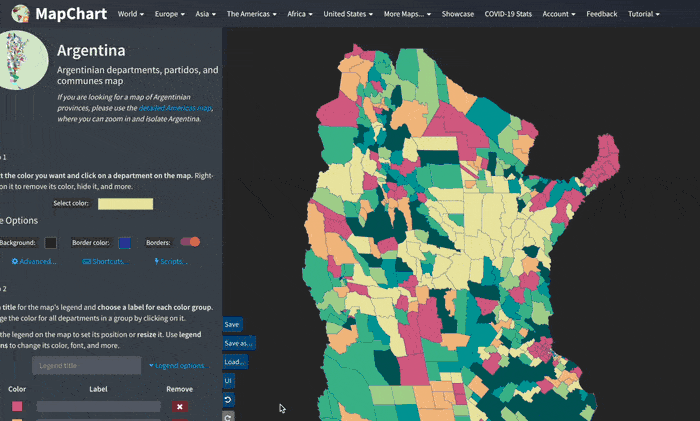 🚫 No Ads:
With Plus, you won't see any ads throughout the website.
🌙 Dark Theme:
Unlock a sleek, dark theme for the whole website. Great for night-time map-making sessions.
🖌 5 extra map themes:
Even more map themes to better customize your maps. Including Ocean, Cork, "the 90s", Ash, and Matrix.
📲 App Premium Max:
When you log in to your Plus account in the mobile app, you are immediately upgraded to the Premium Max version of the app (costing ~9,99$). The MapChart mobile app is available both for iOS and Android.
Note that if you have already purchased Premium or Premium Max on the mobile app, you can get a discount coupon for MapChart Plus!
The complete map-making experience
This version was developed over the past few months, to make MapChart even better and easier to use. With MapChart Plus, you can make maps that look great and fit your needs without worrying about limitations.
For example, you can:
Start editing the map of Europe with countries you have visited or want to visit.
Save your map to your Plus account (no need to download a text file any more!).
After a while, you want to update your map. You go to the Europe map, use the Load button and resume editing your visited countries map.
You make your updates and Save your map again to your account.
You can save your favorite custom colors or patterns and reuse them again.
You can use a Plus-only map theme as a starting template for your map.
Finally, all this can be done with the website set to a visually pleasing dark theme.
Here is a 1-minute preview video, showing some of the Plus features:
And the best part is that all the above can also be done seamlessly with the mobile app as well! You can start working on a map on the website, continue on the app, and then go back to the website. You are able to access all your maps, colors, and settings from any device or location.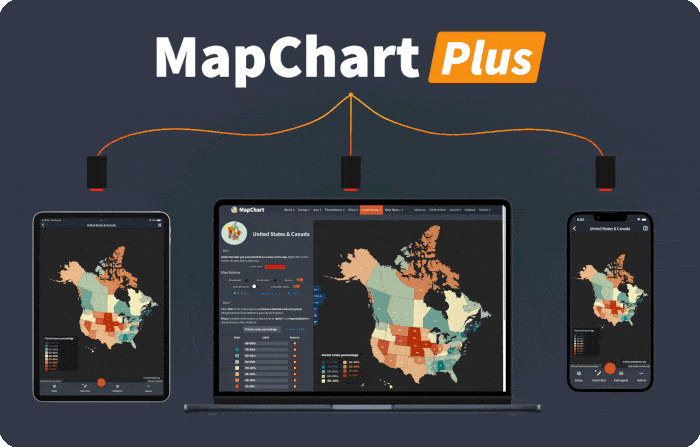 How to get MapChart Plus
MapChart Plus is available as a yearly subscription:
It is priced at just $39.99/year.
You can cancel anytime.
If you cancel within the first 15 days, you can get a full refund for your purchase.
All payments and renewal are securely handled by GumRoad.
You also get the Premium Max version of the mobile app (as mentioned above), and access to an exclusive Discord server to provide your feedback and suggestions!
What the future holds
While working on MapChart Plus, I came up with a lot of ideas for future features and integrations. I can only say that this is just the beginning and the list of features will be expanded even more, so please stay tuned!
Thanks to you
I am absolutely humbled by the positive feedback I receive from MapChart users!
It feels awesome to have such a great community, actively helping me build this on a daily basis:
Also, I want to give a special shout-out to all of the people that applied for and participated in the beta testing program for MapChart Plus. Your feedback has been invaluable and I really enjoyed all our conversations on how to fix stuff and improve the website.
Finally, I can't wait to see what kinds of maps you develop using MapChart Plus and its new capabilities. Rest assured that I will keep working hard to add more features down the road!
So what are you waiting for?