The new historical United States map will let you create maps that show the territorial evolution of the United States from 1790 to today.
You can visit the latest historical USA map here!
This map template is the latest addition to the array of historical maps available on MapChart's historical section, Historical MapChart. It is the first though that delves into United States' territorial history.
It took a while to do the required research to create such a map, which I am sure will prove helpful to many users of the website, especially in the education (teachers, students, etc.) sector. I haven't found yet something similar on the web, so my belief is that it will be really useful for everyone interested in history and geography.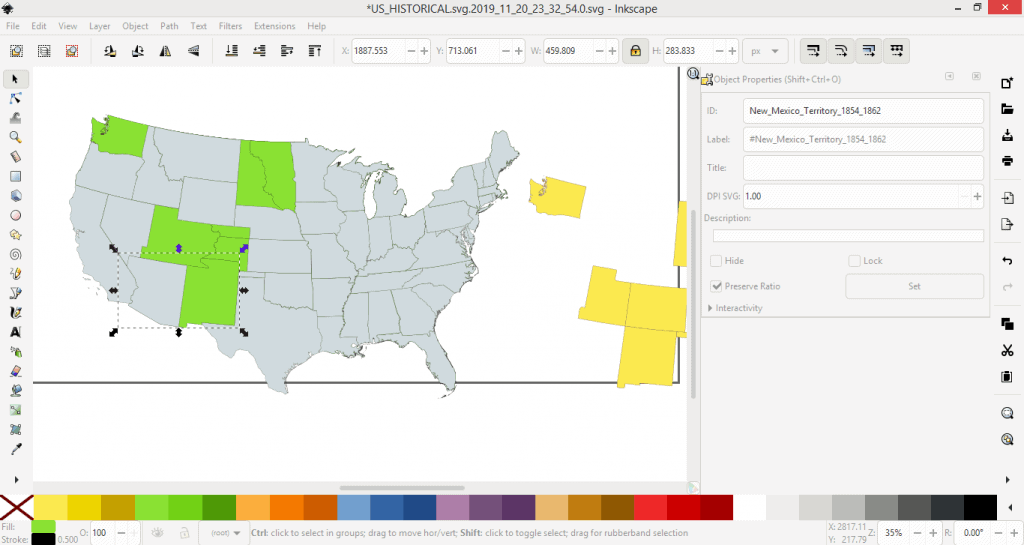 The map attempts to show all border changes for US States from 1790 to today. Below are some examples for various chronologies (1790, 1830, and 1870):
It features a slider that lets you change the currently shown year on the map, similar to the one found on the Cold War World map page:
To make sure that each state's changing borders are shown only once, it uses the state of the borders at the end of each year (31/12/XXXX). For example, Oklahoma State was admitted on November 16, 1907 and consequently was already a state at the end of 1907, so the previous entities (Indian Territory and Oklahoma Territory) have an end date of 1906.
This also stands for cases where the state/territory was renamed. For example, Louisiana Territory was renamed Missouri Territory in 1812, so it has an end date of 1811, while Missouri Territory starts from 1812.
The new Historical USA template can be used to create maps that show data and statistics for various interesting points in US history. Some examples include:
Early years of US history
The Louisiana purchase
The Northwest/Southwest expansion
The American Civil War
Reconstruction
Addition of Alaska and Hawaii
Here is a characteristic map, that shows the split right before the start of the American Civil War (1861-1865):
Note that the map currently changes with a leap of 10 years, but more dates will be available in time, so please stay tuned for more updates.
Visit the new US historical map page and create your own map for free!
PS.: I would be really interested in checking out maps created with this template, so you are welcome to send me your creations through the Feedback page!