Another addition to the array of UK maps on the website and the mobile app.
Need to create a UK postcodes map for your presentation or work project? Look no further, as it is easy to do it with MapChart's new UK postcode areas map page.
The postcode area letters (between two and four characters) form the initial characters of the alphanumeric UK postcode. 
The map shows the 121 geographic postcode areas used in the UK, as well as the ones covering the Crown Dependencies of Guernsey, Jersey and Isle of Man.
It is easy to edit and color your map with MapChart:
Color the areas you want with different colors and add a legend to show what each color stands for.
Drag around the legend to reposition it on the map. Customize its color, size, font, and background.
Change the map's background or borders color and choose whether you want to show or hide the postcode labels.
Finally, you can download your map as a high-quality, PNG image for free. The generated map is also on a high-enough resolution to be printable.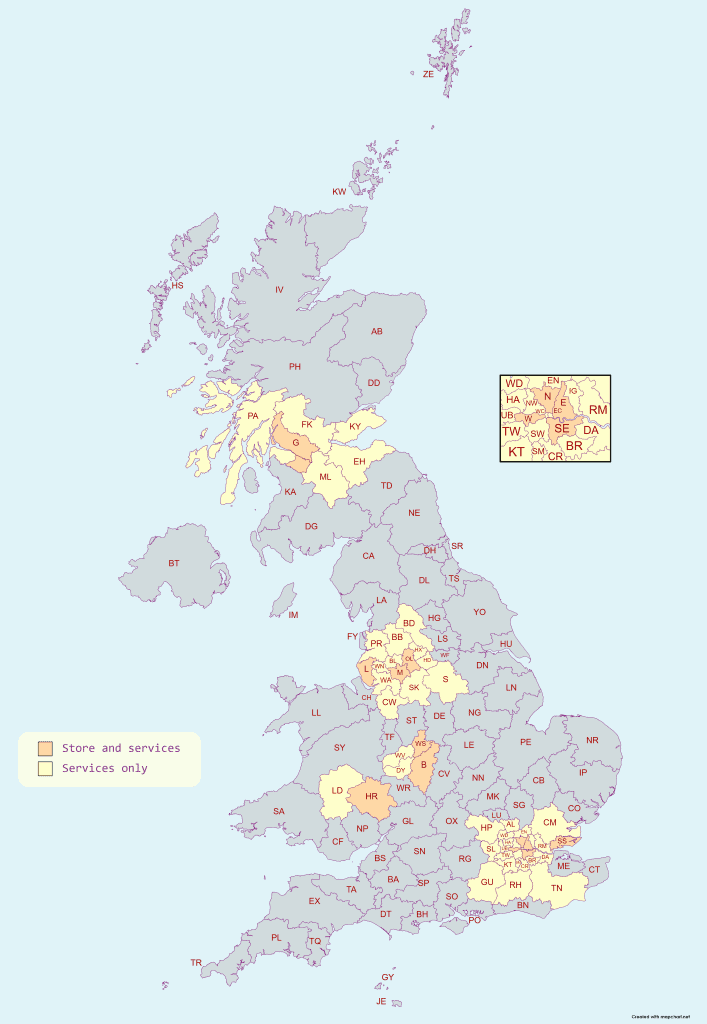 This new map can be useful to businesses for various purposes, like:
Location analysis
Store/services coverage for businesses
Market research
Competition analysis
Sales jurisdictions planning
Delivery/route planning
It can also be helpful for individuals wanting to learn more about UK postcodes, making a travel map, making census predictions, and more.
As a reminder, there are four more UK maps available on MapChart (counties, historical counties, parliamentary constituencies, unitary authorities). You can check details on them in this post.
Of course, this map is also available in the latest update for the MapChart mobile app, for users that want to make maps easily from their phone or tablet.
Visit the new UK map page and make your own custom map for free!