Discover MapChart for Airtable, the ultimate map-making solution for your Airtable data. Create custom maps, visualize geographic patterns, and unlock insights with ease.
A few months ago, one of MapChart's users, who is also using Airtable every day, suggested creating an Airtable extension with similar functionality:

At the time, I had seen Airtable pop up here and there in my social feeds, but I hadn't ever used it myself. After playing around with it, and checking out its extension API documentation, I decided to have a try at developing a MapChart extension for it.
So, I am now excited to announce that MapChart for Airtable is now available on the Marketplace: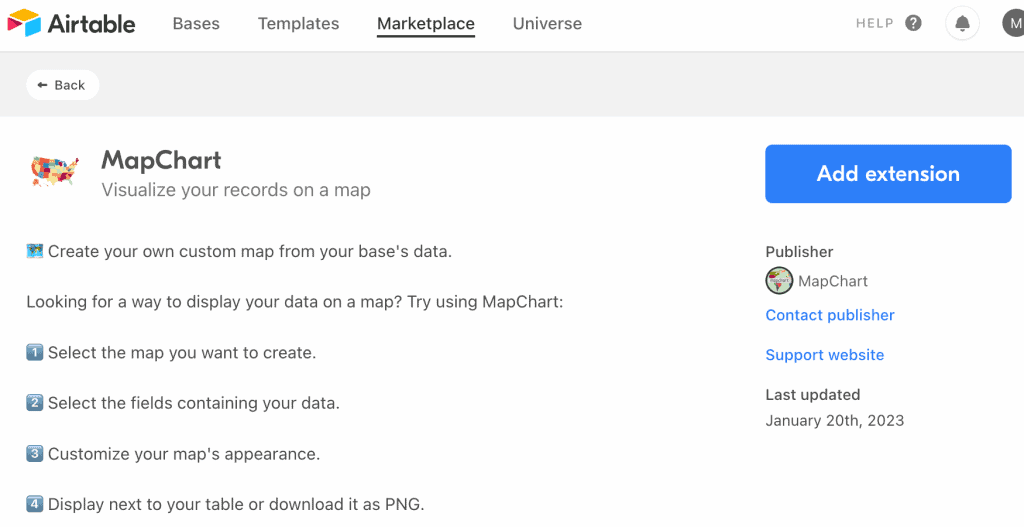 Creating maps and visualizations can be a time-consuming and complex task, especially if you don't have the right tools. This is where MapChart comes in – the ultimate map-making solution for your Airtable data.
With the MapChart extension, you can easily create custom maps that visualize your data and help you understand it better. The process is simple and straightforward:
Select the type of map you want to create, including world, US counties, US & Canada, and Europe maps.
Choose the fields containing your data. You can select any number of fields, including numeric fields, percentages, text, or checkbox fields.
Customize the appearance of your map. You can change the background color, border color, and default color to match your data and brand.
Display the map next to your Airtable table or download it as a PNG image.
MapChart for Airtable is designed to help you visualize geographic patterns in your data. It's the perfect tool to take advantage of Airtable's data capabilities, as it enables you to see patterns, relationships, and insights that are not immediately visible in raw data.
You can save time and use it to:
💰 Track sales statistics by state.
🌎 Visualize your company's worldwide presence.
🗳️ Show election results by county.
✈️ Make your own visited countries world map.
🏢 Display your organization's activities across a region.
🔬 Show survey results or research data on a map.
It makes it effortless to create maps that communicate your data, like showing percentage points on the whole US counties map: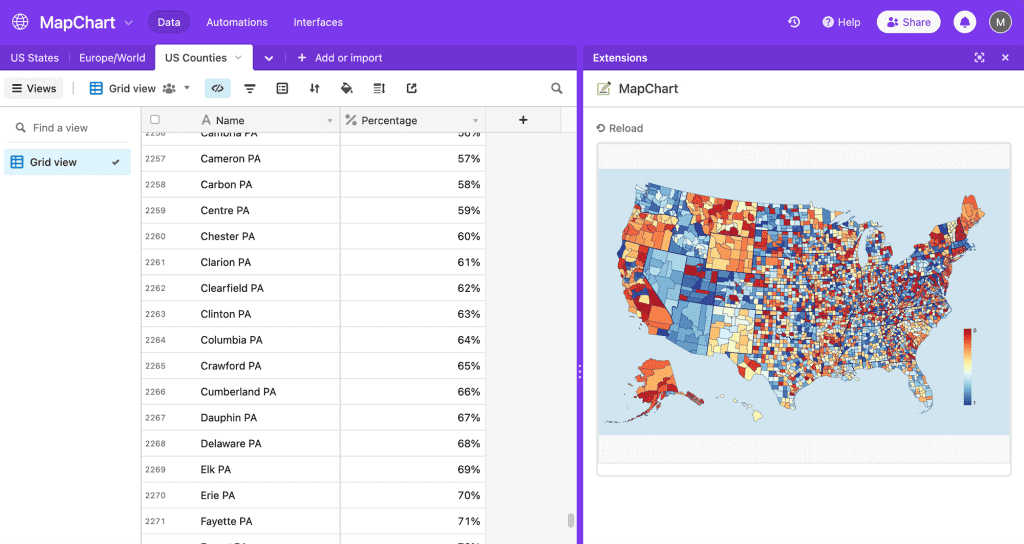 Also, with a one-time payment, you can unlock premium features that give you even more options for styling and customization.
You'll get four additional maps, including a world map, US counties map, US & Canada map, and Europe map, plus more styling options for background color, border color, and default color.
If you try it out, either the free or the premium version, I would love to get your feedback! I already have some features planned for it, so stay tuned for more updates.
You can find the extension on the Airtable Marketplace and install it for free. Finally, you can find out more on its website.
Start creating your own maps from your Airtable data today and see your data in a whole new light!